Last Updated on May 27, 2021 by Canadian Reviews
About Lug
Lug is a company that producStylish bags, accessories and travel solutions. family brand created by a husband-and-wife team who began dating in different countries (Canada and US) who traveled back and forth often. All this travel led them to their goal to "build a better bag" as they were unsatisfied by uninteresting travel bags that lacked functional organization. Lug is best known for having 365 degrees of organization, loads of prints and color options as the slogan 'live life in color" can demonstrate.
Read our review and see below on how to get a nice sign up bonus off your first order.

What they Sell
Carry on size luggage, totes, backpacks, cross-body bags, purses, and accessories
Features that Lug is known for: (not all items have all features)
Signature hidden water bottle holder
Clear view pockets
Wipe able bag bottoms for effortless cleaning
Dedicated soft lined cell phone pocket
Built it wallet card slots in RFID protected pockets
Lots and lots of purposeful pockets
The Purchasing Process
Very easy process. Click the shopping cart icon in the upper right of the screen and select the checkout button. First time shoppers will have to input shipping address and payment method. Multiple payment methods are available such as credit card, Paypal or Shop Pay.
Next choose the type of shipping you prefer and note all orders of $100 and greater will be shipped for free. Next look for "add a discount or a gift card" which is high lighted in blue, this is where you copy and paste your reward code. Bonus note, lug recently changed this section so you can use both reward points and a promotional code for additional discounts. The final total is shown with a currency icon, as the website offers prices to be shown in either CAN or US currency, so there is no surprises when the bill is emailed after purchase.
The delivery process is hit and miss at best. I do understand that deliveries are currently at an all time high, as pandemic lockdowns have created an incubator for online shopping. There is no standard, as the after-purchase email only sometimes contains a tracking #, and only occasionally is followed by a notification when package has been shipped. The website also has a section in your account with your order history; however this is not always updated as we have received orders and days later it still reads as unfulfilled.
Lug Live
Lug live is an interactive shopping presentation allowing viewers to text in and ask questions about the products in real time; or just hang out and intermingle with other like-minded viewers via a smart phone app.
Each show has special prices that can only be utilized if purchased during the time of the show.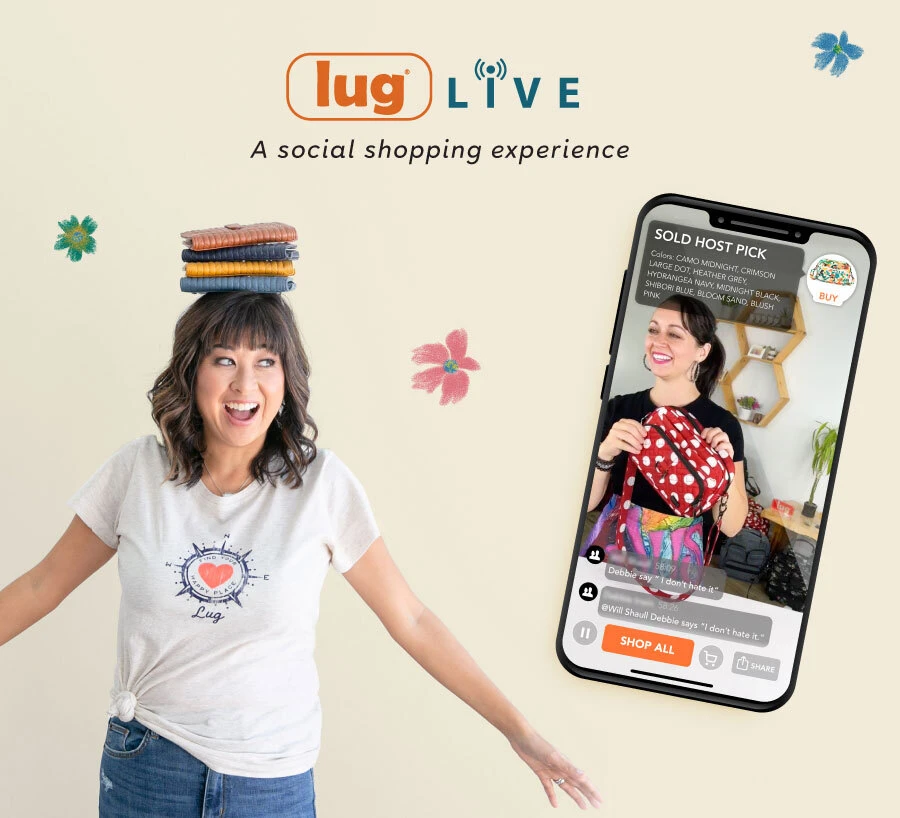 Reward Program
You can earn lug points by referring a friend, subscribing to receive email, follow them on social media, writing a review on products you already have, and receive points on your birthday.
The bulk of points are received when purchases are made. Members are classified into tier based on how much they have spent over a 12 month period.
| | | | |
| --- | --- | --- | --- |
| | Silver (no minimum) | Gold (from $300) | Diamond (from$1000) |
| Purchases (for every $1 spent) | 5pts | 10pts | 15pts |
| Birthday bonus | 100pts | 500pts | 1000pts |
| Refer a friend | 1000pts | 1000pts | 1000pts |
| Follow on social media | 100pts | 100pts | 100pts |
| Write a review | 100pts | 100pts | 100pts |
| Subscribe to mail | 200pts | 200pts | 200pts |
Points redemption
500pts= $6.25
1000pts=$12.5
2500pts=$31.25
5000pts=$62.5
10000pts=$125
20000pts=$250
Use our Lug Referral Code LL-Z14R8NKS and get 12.50 CAD off your first purchase. Or Click Here to use our sign up link
Lug
Summary
Lug is a company that produces stylish bags, accessories and travel solutions. Such as carry on luggage, totes, backpacks, purses, and accessories