Last Updated on November 3, 2021 by Canadian Reviews
What is Shakepay
Shakepay is a Canadian cryptocurrency exchange and peer-to-peer wallet based in Montreal. Shakepay allows users to buy, sell, store and send Bitcoin and Ethereum via a smartphone or desktop computer. They make it easy for the average person to get started with crypto with their well designed and user friendly mobile interface. They have also just announced the Shakepay Card. A VISA branded bitcoin reward card.
Shakepay is a Montreal based company that launched back in 2015 and already have over 600,000 users on their platform.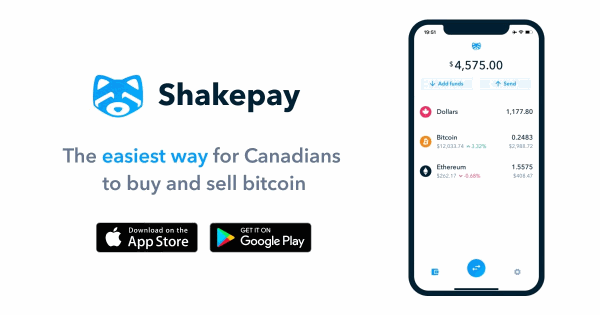 Shakepay Features
Here is a summary of just some of Shakepays features:
Free withdrawals and deposits
Easy verification and setup
Supports iOS, Android, and has a website interface
Price Alerts – Be alerted when your threshold is met
Limit Orders – Place a buy or sell order when your threshold is met
Recurring Buys – Fund your account and have Shakepay buy cryptocurrency daily, weekly, or monthly
ShakingSats Mobile Game – Shake you phone for free bitcoin
Shakepay Card (Coming Soon) – Use a VISA branded card to earn bitcoin cashback
Send crypto to other Shakepay friends and users
Supports BTC (Bitcoin) and ETH (Ethereum)
Sign up Bonus when you use a Shakepay referral code
Shakepay Fees
Shakepay has no fees except on the spread. This is done whenever you make a crypto trade, and is dependent on the market at the time. During busy times we have seen this up to 2.6%. And during non busy times around the %1 mark.
Withdrawals and Deposits (CAD): FREE
Withdrawals and Deposits (Crypto): FREE
Trading (Buy or Sell): 1.1% – 2.6% (The is a variable amount that will depend on the market)
Shakepay does not charge for crypto withdrawals. But what is really nice is they also absorb the crypto network and miner fees. These are fees that the network (not Shakepay) take whenever you send crypto from Shakepay. For example another exchange, or a wallet.
Shakepay Security
Shakepay stores the majority of their digital assets in offline cold storage wallets. And have also partnered with a third party cold storage provider that is regulated under New York Department of Financial Services (NYDFS). Their digital assets are also insured against most damages, theft and the loss of private keys.
Their application and all communication is digitally encrypted. And accounts can be secured against unauthorized access by 2 factor authentication (2FA), biometric unlock, PIN code, or FaceID.
Account access and certain actions will also trigger notifications or email confirmations asking for verification. This ensures third parties cannot access your account and access your funds.
What is ShakingSats
ShakingSats is a fun mobile feature that allows you to shake your phone and earn some free bitcoin. For every day you play you get multiplier streaks. At the time of this review the rewards are 150 satoshis (0.00000001 BTC) on day 1 and up to 1500 by day 201. Note, these rewards can change.
This feature is unlocked when you are either referred, or refer a friend.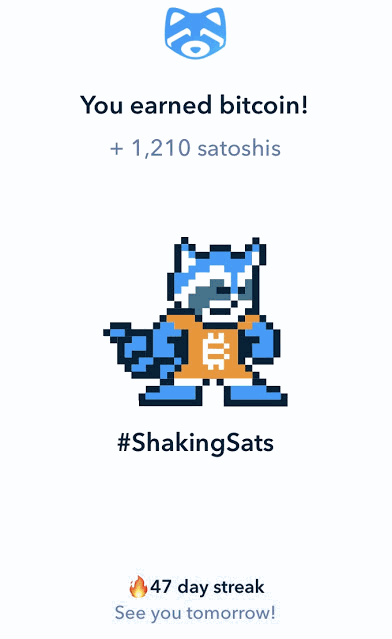 Shakepay Referral Program
Use a referral and trade $100 worth of crypto and Shakepay will give you $30 CAD. (Increased from $10 to $30 on Nov 3rd, 2021 !) We always recommend trading a bit more to cover the spread and any market fluctuations. Shakepay will award the bonus around 24 hours after you have qualified.
You can now also refer your friends and family and Shakepay will enter you into The Daily Referral Giveaway for a change to win 1,000 in sats!
If you need a referral code here is ours. We appreciate the support to keep the site going.
If you have already signed up and have not used a referral, you can go to https://shakepay.com/add-referral and enter code: 0XMDQU0
Shakepay Verdict
Shakepay Referral Code
Summary
Shakepay is a Canadian cryptocurrency exchange and peer-to-peer wallet based in Montreal. Shakepay allows users to buy, sell, store and send Bitcoin and Ethereum via a smartphone or desktop computer. When you sign up with a Shakepay referral code you can also get a pretty good sign up bonus