Last Updated on November 1, 2021 by Canadian Reviews
About Coinberry
Coinberry is an easy to use Canadian cryptocurrency exchange. Founded in 2017 they began as a Bitcoin ATM service. Coinberry is now a full featured exchange for buying and selling your favorite cryptocurrencies. Coinberry also became the first and only digital currency platform to partner with Municipal Governments in Canada for tax payment processing.
Trusted by tens of thousands of Canadian customers. Their aim is to deliver the best in class user experience.
Read our review below and make sure to use a Coinberry Referral Link or use the Coinberry Referral Code : 17313143f95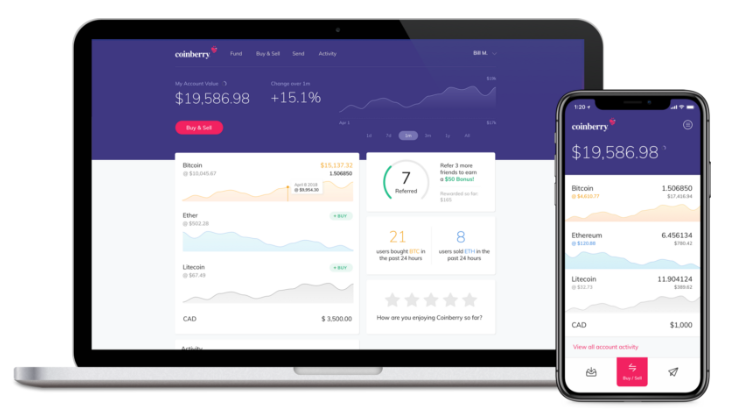 Coinberry Sign Up Process
Signing up for Coinberry was an easy process. You can download the mobile app or use the webpage to create an account. Make sure to use a Coinberry referral code or a referral link like the one below to get a nice little sign up bonus when you start trading.
You will be required to enter your personal information to complete KYC verification (Know Your Customer). This would also involve taking a selfie and submitting a piece of identification. This can be a drivers license or passport for example.
The process was instant for us and we were verified in about 30 minutes. However for some customers this may require additional time or information.
Coinberry also offers live support for any help or questions you may have.
Coinberry Fees
Coinberry does not charge any funding or withdrawal fees. They do however have a minimum deposit requirement. Currently this is $50. And the withdrawal minimum is $100 via e-Transfer.
Coinberry makes most of its money on the spread. Currently around 0.5-0.7 percent. And they do not cover any of the mining fees if you want to send your money elsewhere like another exchange or wallet. These fees can be pretty high. So make sure to send during low market volume or convert to a low network fee coin like Stellar or Ripple.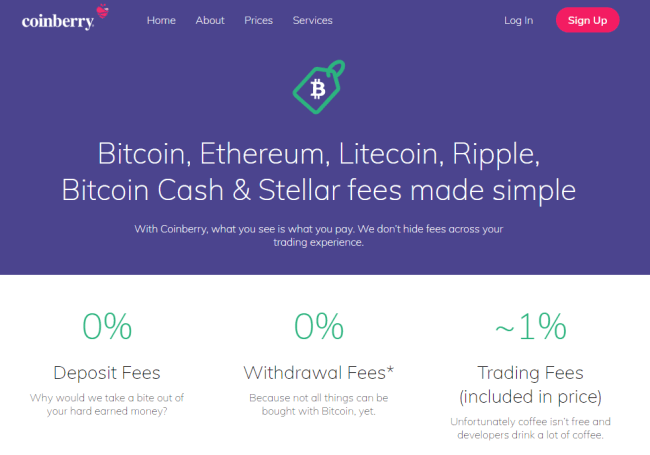 What funding options are available
Once your account is verified. You have many options for funding. Such as Credit Card, Debit Card, or you can fund your account with an e-Transfer or Wire Transfer. Coinberry is one of the only exchanges we have found that supports funding with a credit card.
What cryptocurrencies are supported
Coinberry currently supports 14 cryptocurrencies at the time of this review. These are some of the most popular and well established currencies. We suggest getting started with these before getting into some of the more risky coins. They support the following:
Bitcoin
Ethereum
Litecoin
Ripple
Stellar
Bitcoin Cash
Dogecoin
Cardano
Aave
Balancer
Uniswap
Basic Attention Token
Compound
Chainlink
* Due to ongoing legal issues with Ripple in the US. The currency is in the process of being removed from the platform.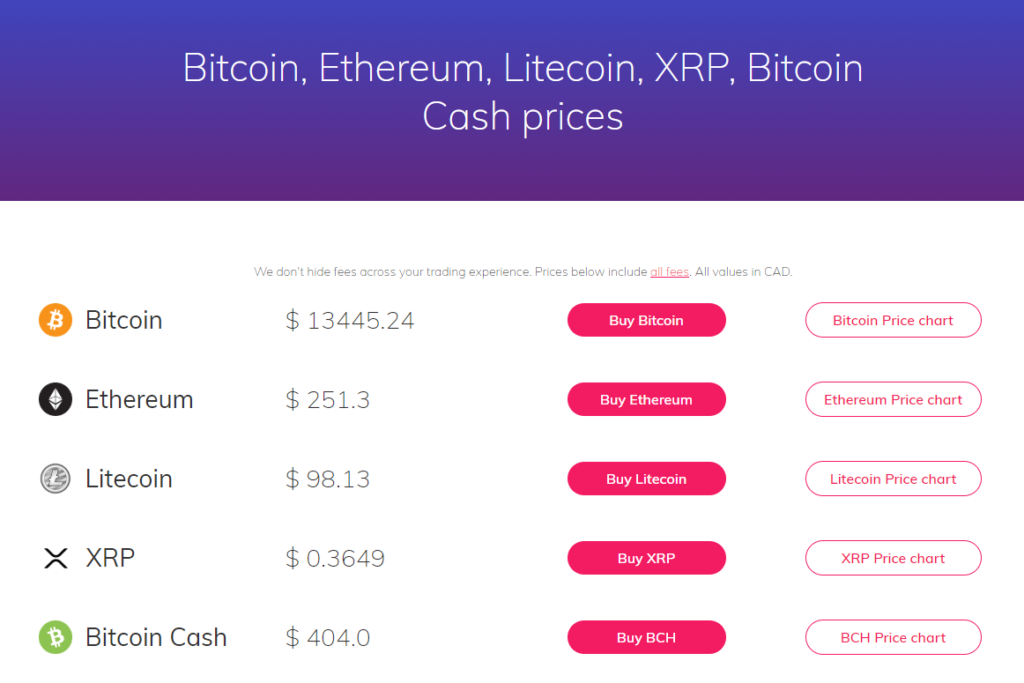 Coinberry Security
Coinberry has been around since 2017 and is FINTRAC registered. Being FINTRAC registered means that they are fully compliant and committed to proper user onboarding, fraud monitoring, and reporting of their systems. They also use industry-standard cold storage to store crypto assets on their platform.
They do not store any of their members data on non-Canadian servers. So if you are concerned where your data is located. You can be assured it is safe at home.
All users should enable Two Factor Authentication (2FA) on their account once it is set up. This gives you an extra layer of security.
Coinberry Pay
People are increasingly using cryptocurency to pay for goods and services. Coinberry Pay allows businesses, merchants, and individuals to receive payments, tips, and donations in bitcoin and convert them to Canadian currency.
When you sign up for a Coinberry account, you automatically get a unique link you can share with people and accept payments in bitcoin. This link can work anywhere in the world
Coinberry Pay also does not charge anything for this feature unlike Paypal or Interac. You can start accepting BTC as a payment method in minutes when you set up your new account.
Coinberry Referral Program
Their referral program is pretty good. Just use a referral and trade $50 worth of any cryptocurrency and Coinberry will give you $40. We always suggest trading a bit more than the referral requirements to cover any spread or market fluctuations to ensure you get your bonus immediately.
Need a Coinberry referral code? Here is ours. We always appreciate the support to keep the site going and ad free. We need readers like yourself.
Coinberry Referral Link or use the Coinberry Referral Code : 17313143f95
Once signed up you can share your very own referral code with friends and family to get additional bonuses.
Other cryptocurrency exchange offers
Interested in some other great offers? Here are a few of our favorite crypto exchange offers and bonuses. Feel free to read our reviews below and give them a try. If you have any comments or suggestions, feel free to also comment below.
Shakepay – You will receive $10 when you trade at least $100
BitBuy– Get $20 when you trade a minimum of $250
Newton – Receive a $25 sign up bonus when you trade $100 or more
Wealthsimple Trade / Crypto – Sign up and get $10 when you trade $100 or more (Stocks or Crypto)
Coinberry Verdict
Coinberry
Summary
Coinberry is an easy to use Canadian cryptocurrency exchange. Trusted by tens of thousands of Canadian customers. Their aim is to deliver the best in class user experience. Sign up today with a Coinberry referral code and get $20 to start trading your favorite cryptocurrencies.